A Message from Dov – January Issue 2018
It's only the beginning!
In 2017, as part of our strategy, we took on a new element of leadership in supporting business-based social purpose. We have evaluated our concentrated efforts and developed a disciplined approach to our corporate social responsibility. Our strategy has taken some shifts and turns due to the unexpected natural disasters that took place in our country this year. We joined National Sheriff's Association (NSA) Disaster Relief efforts for law enforcement individuals and their families during Hurricane Harvey's natural disaster.
We supported our employees and their nonprofits and charities by giving back to the Alagille Syndrome Alliance (ALGSA) – Team Sophie "Fight for a Better Life" by helping them to reach their funding goals and getting involved.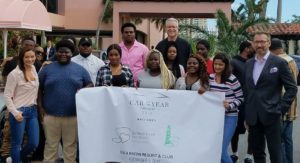 We also participated in the annual National Police Survivors' Conference hosted by C.O.P.S. It's important to partner with experts to help Law enforcement survivors, co-workers, and agencies from across the nation that gathers to attend seminar sessions specifically designed for their needs, and hear presentations delivering inspirational messages on hope and survival.

An unexpected event, with great reward, as we joined efforts with Robb Report and participated in Selflesslove Foundation Fundraiser at Car of the Year – Boca Raton.
TAG's CSR is playing a central role in strengthening our leadership. Giving back is rewarding to me, but distinguishing real help and social change is what matters.
Dov Koplovsky, Owner & CEO
Read more: TAG Lines