TAG's Rugged Tablets at the NRF- Retail's Big Show 2018!
NRF's convention and EXPO, Jan 14th-16th, will attract more than 35K attendees, present hundreds of sessions and showcase miles of retail technology in the EXPO and Innovation Lab.
A Solution to help overcome Mobile Printing Challenges
TAG is working closely with Citizen Systems to provide a complete printing solution using the TAG GD3030, and TAG GD700 along with their Rugged 2″,3″ and 4″ printers. NRF 2018 dives into the overarching theme of "retail transformation," addressing an opportunity for the industry to look at bold new directions in competing and succeeding amid a constantly changing market. 
Mobility for the modern day workforce can be a challenge. Most everything is done on the tablet or laptop and we are all in either data collection mode or pushing/pulling information from one place to another. However, in retail, direct store delivery, package delivery, in isle purchases, and pop up store locations all require some kind of receipt for product or services.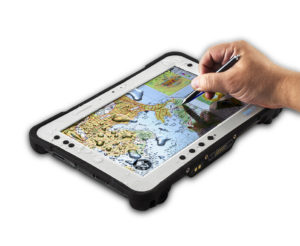 Today mobile printers come in the most common print roll sizes 2", 3", 4" and 8.5". Most of the time they are rugged and, have a long battery life and connect through Bluetooth®, or Wi-Fi. A printer is only half the solution to provide the necessary documentation for a service or purchase. To provide a total mobile printing solution you need a Tablet, a Printer, and POS software to run on the device. There are cloud-based POS systems that can output to a printer through a Tablet but most POS solutions are loaded onto the tablet. Every printer on the market today has to be connected to a device of some kind.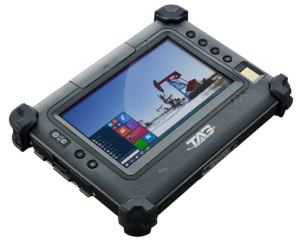 TAG has teamed up with Citizen Systems to provide tablets to handle any mobile environment. The TAG GD3030 comes standard with Bluetooth® and Wi-Fi to easily and quickly connect the Citizen CMP-30 3" printer to document services or products after purchase.
The CMP-30 provides mobile printing options for receipts up to 3 inches wide.  The CMP-30 shares the same advanced Bluetooth® and Wi-Fi technology and tough construction of the smaller CMP-20 mobile printer.  This ensures quick and easy printing, with drop-in paper loading and paper out indicators, simple feed paths to eliminate the risk of jamming, and an integral tear bar to cut paper to the required length.
The TAG GD3030 tablet comes standard with GPS, Wi-Fi, Bluetooth®, the latest Microsoft Windows™ Operating System.  Built-in RS232 connectors, front and rear cameras, 8GB of memory, Ethernet connector, and a USB port are standard as well. It has optional 4G LTE, Smart card reader, barcode reader, NFC, and mag stripe reader.
The combination of Citizen Systems and TAG Global Systems hardware produces a fully deployed solution for any retail, or mobile workforce.