Advanced Technology for Law Enforcement for Community Policing
I recently read an article by Aaron Lawrence who emphasized: "Technology that keeps Police Ahead of Crime".  The article explains that technology advancements have improved law enforcement to respond faster, access information easier, and have better situational awareness. There is a list of new technologies available to law enforcement, and the one that speaks out the most to me from this list is tablets. The mobility perk of tablets is changing law enforcement from delivering Domain Awareness System data to the Police Officer. Real-time, comprehensive information available to officers give a better awareness to formulate a response.
Laptops in patrol cars have their limitations and that's why tablets are the advanced system for delivering tickets and accessing records to disseminate important information. AT TAG Global Systems the focus is to transform the policing profession by releasing the TAG GD3030 rugged tablet. The advancement of technologies such as the TAG GD3030 rugged tablet has proven to be the visual aid technology hardware for situational awareness. The tablet is versatile, lightweight, and durable to be in any environment. Police Officers can file accident and incident reports out in the community wirelessly, access information from their Dashboard, research and look up information related to crime(s), and so much more on the go.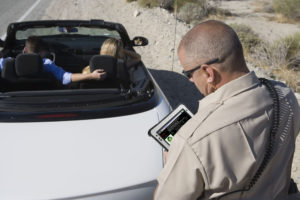 Law Enforcement deserves the latest and best technologies to protect us. Learn more about this rugged tablet, the TAG GD3030, that will equip each Police Officer with the portability of staying connected in critical situations.
Reference:
More about the TAG GD3030:
Native RS232 Port – Are you ready for field work? So many systems today still use RS232 ports for the transfer of data. With the RS232 Port on the tablet, your legacy applications or hardware are able to still be used. If you need to do some diagnostics, use a thermal printer, scanner or highly accurate GPS receiver – this is a must-have.
Built In Ethernet Port – The built-in Ethernet port accepts a cable that has an RJ-45 connector on the end. If you're having trouble with wireless connectivity then connecting this to a wired network is simple and easy. It connects wired network hardware in a local area network (LAN) or wide area network (WAN) with a fast connection.
NFC (near frequency communication) – Near Frequency communication is a set of standards for portable devices that allow peer-to-peer communications that pass data from one device to another by touching them or getting them very close. NFC can be used to receive credit card data for taking payments in the field.
Built in CAC (common access card) reader – A CAC card is a common access card. It is the standard identification for active duty United States defense personnel. The TAG GD3030 is the first tablet to have a built-in CAC card reader on it. No wired devices or Velcro components. It's simple and easy to set up – ready to use immediately.
 IP 65 Rated 5 Foot Drop – Built with military grade components, it was designed to withstand a five-foot drop and withstand harsh environmental conditions. Rated with MIL-STD-810G, it has gone through a variety of tests to prove it will hold up in all tough environments.
2D barcode scanner – It has an integrated 2D barcode scanner and easily scans barcodes using only one hand – or you can Bluetooth® a ring scanner or wireless trigger. The 2D barcode scanner is programmable to meet your needs and streamlines the scanning process.
GPS receiver – It comes equipped standard with GPS technology. It has one of the fastest TTA (time to acquisition) embedded modules available today. It comes standard with NEMA default protocols which is a standard interface for most applications. Accuracy is very important for software applications and services today. The TAG GD3030 provides the latest and most accurate GPS available.
Built in 4G LTE, Bluetooth®, Wi-Fi, and optional Band 14 – Communication is the most important feature of any tablet. The TAG GD3030 has the most complete communication technologies that include, Wi-Fi, 4G LTE, Bluetooth® 4.0, and optional Band 14 for your workforce. With all these wireless features you will have no problem connecting to networks and peripherals.